Por­trait of Paul Ehrlich
Paul Ehrlich (1854-1915) – Immunologist, Scientist, Nobel Laureate and Name-Giver of the PEI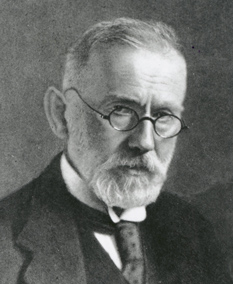 Paul Ehrlich, born on 14 March 1854 in Strehlen near Breslau, Silesia (former Province of the German kingdom of Prussia, now in Poland); date of death: 20 August 1915 in Bad Homburg vor der Höhe, federal German state of Hesse, Germany) was a German physician, serologist and immunologist. Based on his research, he is considered as the founder of chemotherapy, since he was the first scientist to develop targeted pharmaceutical treatment against syphilis using the organic arsenic-based compound, Salvarsan.
In 1908, Paul Ehrlich received the Nobel Prize for Medicine in the field of immunology together with Ilia Metschnikow. With his side-chain theory, Paul Ehrlich explained the basic principle of immunity. His works on the development and validity determination of anti-diphtheria sera were of great significance.
In 1896, the Institute for Serum Research and Serum Testing (Institut für Serumforschung und Serumprüfung) was founded, which was especially designed for testing sera for quality and efficacy. This institute was the predecessor of the present-day Paul-Ehrlich-Institut.