Background
Back­ground
Since 2018 the Innovation Office organises and coordinates the national advice meetings for all products in responsibility of the PEI. The Innovation Office is the central contact point for your questions regarding planning and conduct of national advice at PEI. In addition it provides you with information for medicinal product development and it is involved in national and international projects aiming to improve the advice offered in order to efficiently support the developmental process.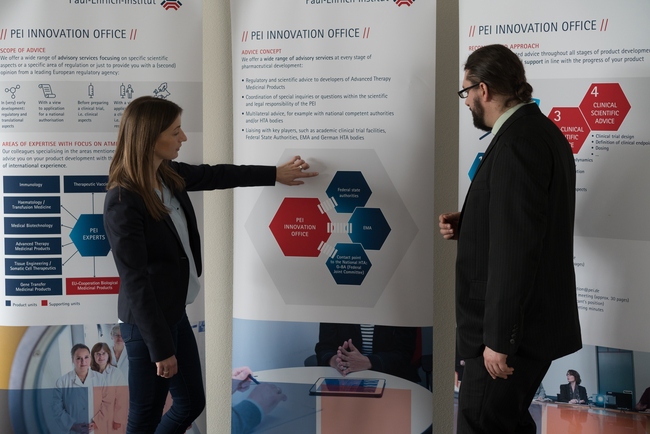 The Innovation Office was established in 2009 with focus on advanced therapy medicinal products (ATMP) to support their developmental process from drug discovery to marketing authorisation in Germany as early as possible.
Further support: EMA and Incentives
Fur­ther sup­port: EMA and In­cen­tives
EU Innovation Network (EU-IN)
The Innovation Office is also part of the EU Innovation Network (EU-IN), which provides a platform for the cooperation of Innovation Offices in national regulatory agencies and the EMA's Innovation Task Force (ITF). As the pace of innovation is very rapid and the medicinal products developed tend to be more complex the network aims at providing the appropriate infrastructure and collaboration to foster and encourage innovative development in the EU.
European Scientific Advice
In addition to providing national scientific advice, the Paul-Ehrlich-Institut is also actively involved in European scientific advice and protocol assistance (Scientific advice for orphan medicinal products).
Experts from the Paul-Ehrlich-Institut are represented in the CHMP (Committee for Medicinal Product for Human Use), the CAT (Committee for Advanced Therapies) and the SAWP (Scientific Advice Working Party). The SAWP is in charge of all European advice.
Applications for scientific advice / protocol assistance should be submitted to the EMA. The fees for this procedure are charged by the EMA.
EMA Incentives
The European Medicines Agency (EMA) offers a range of incentives to encourage the development of medicines. The following table summarises the incentives offered.
Incentives for
Incentives offered by EMA
Link to EMA
Small and medium sized enterprises (SME)

regulatory, financial and administrative assistance
fee exemptions and reductions for regulatory procedures (for detailed information see EMA Website)

EMA SME criteria

EMA SME User Guide



Medicines with orphan designation

reduced fees for protocol assistance, marketing-authorisation
application, inspections before authorisation, etc.
access to centralised marketing authorisation
ten years of market exclusivity
(+2 years)
special funding available

EMA Orphan Incentives
Paediatric medicines

additional 2 years of market exclusivity
scientific advice and protocol assistance are free of charge

EMA paediatric medicines
Paediatric-use marketing authorisation (PUMA)

10 years of market protection

EMA PUMA
Priority Medicines (PRIME)

early and proactive support by CHMP/CAT rapporteur
kick-off meeting with CHMP/CAT rapporteur + experts
scientific advice at key milestones
accelerated assessment of medicines applications

EMA PRIME
Statistic