Time lines for the re­quests for clin­i­cal tri­al au­tho­ri­sa­tions
Periods for the Trial
| Product groups pursuant to Section 42 German Drug law | Period for the evaluation of the contents by the competent authority (after receipt of the dossier conforming to the regulations) |
| --- | --- |
| Allergens, vaccines, biotechnology medicinal products | 30 days |
| Biological products (human / animal origin) | 60 days |
| Somatic cell therapeutics; gene transfer medicinal products, GMOs | 90 days |
| Xenogenic cell therapeutics | none |
After the conforming the receipt of the documents, different periods apply for the evaluation of different medicinal products by the competent authority pursuant to the GCP regulation. The periods referenced here are not total periods for the processing of the requests but solely periods for the evaluation of the content of the documents by the CA.
Time lines for Clinical Trial Applications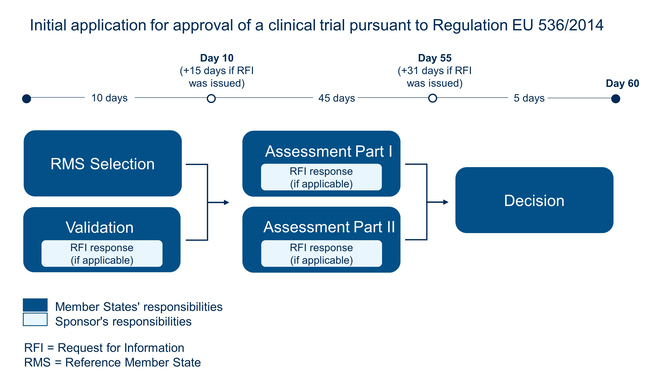 Graphic display of the periods and process of clinical trial authorisations Source: Paul-Ehrlich-Institut
The documents will be checked for formal conformity within 10 days after receipt of the clinical trial authorisation request at the PEI. Formal non-conformities will be communicated to the applicant within 10 days and must be answered by the applicant within 14 days.
If the request is without formal non-conformities, a confirmation of receipt will be sent to the applicant, and the day after the receipt at the PEI shall be the first day of the evaluation of the content by the PEI. The evaluation period is 30 days for allergens, vaccines and biotechnology medicinal products, 60 days for biological products (of human/animal origin), and 90 days for gene transfer medicinal products and genetically manipulated organisms (GMOs). No periods apply for xenogenic cell therapeutics.
After the evaluations of the contents of the request, the applicant will either be notified of the grounds for non-acceptance, or, if no such grounds have been found, the approval certifcate.
If grounds for non-acceptance were communicated, the applicant shall be granted a period of 90 days to answer these grounds by amending the request. After submission of the amendment, the PEI shall have a period of 15 or 30 days, depending on the medicinal product, to evaluate the amendment.