Qual­i­ty Man­age­ment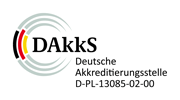 The Paul-Ehrlich-Institut (PEI) is part of the European Network of Official Medicines Control Laboratories (OMCL). For two decades, the PEI test laboratories have been working with a quality management system (QM system) that meets the requirements of DIN EN ISO / IEC 17025 (ISO 17025). In the field of authorisation and testing, the quality assurance of standardised processes are established for authorisation and testing of medicinal products. The quality policy of the PEI aims at promoting the quality, tolerability and efficacy of vaccines and biomedical medicines. The aim of the QM system is to ensure that the PEI can demonstrate the required competence at all times and in all areas of responsibility that contribute to the quality of the marketing authorisation and product testing. This competence is a prerequisite for the worldwide recognition of the test methods and results used in the PEI.
In connection with the standard "General Requirements for the Competence of Testing and Calibration Laboratories" (ISO 17025), the PEI complies with the requirements of the German Accreditation Body (Deutsche Akkreditierungsstelle, DAkkS) and the European Directorate for the Quality of Medicines & HealthCare (EDQM). Quality aspects are implemented in accordance with the DIN EN ISO 9000ff series. The requirements of DIN EN ISO 19011 are incorporated into the internal audit system of the PEI.
The regular monitoring and accreditation of the laboratories of the PEI by the DAkkS and the auditing by the EDQM ensure that the relevant standards are applied correctly and effectively. The PEI has been accredited for a variety of test methods for years.
Together with other European pharmaceutical regulators, the PEI is committed to health for humans and animals (One Health) within Europe. It also participates in the field of quality assurance in the benchmarking of the European Medicines Agency (BEMA), which was established within the EU Network of Authorities (HMA). In this independent evaluation of its authorisation, testing and management processes, the PEI achieves excellent results in its role as a drug agency.
The PEI publishes all relevant aspects of its QM system in the QM manual.