IVD Testing Laboratory
IVD Test­ing Lab­o­ra­to­ry
In Europe, the introduction into the market and CE marking of diagnostic products is governed by the "Directive 98/79 / EC of the European Parliament and of the Council of 27 October 1998 on in vitro diagnostic medical devices" (IVD Directive).
According to the Medical Devices Act Seciton 32 (2), a technically independent IVD testing laboratory (PEI-IVD) was set up at the Paul-Ehrlich-Institut (PEI), which works together with notified bodies and other organisations. The test laboratory has been assigned the function to use its competence and many years of experience in the field of approval and batch testing of in-vitro diagnostics at the PEI, in order to continue to ensure a high safety standard of the IVD. PEI-IVD was accredited for the first time on 10 Nove. 2000 by the Central Authority of the Länder (Federal States) for Health Protection with regard to Medicinal Products and Medical Devices (ZLG) in accordance with DIN EN ISO17025 and IVD Directive 98/79 / EC.
In particular, those IVDs are tested, which, according to Annex II of the IVD Directive, have to be CE-marked by a "notified body", e.g. HIV, HTLV and hepatitis B, C and delta tests. The tests include batch tests as well as product tests and assessments in the context of conformity assessment procedures. In addition, PEI-IVD also conducts scientific studies and performs evaluations on behalf of manufacturers or other organizations.
The 25-year responsibility of the PEI for high-risk diagnostic products has achieved a high level of safety for blood and blood products. The aim is to maintain the achieved health protection also under the IVD guideline.
Organisation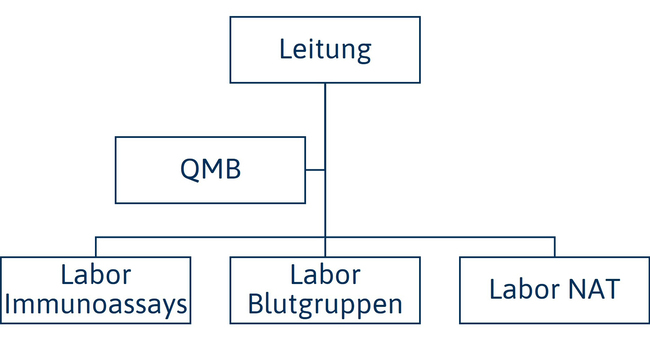 Organisation PEI-IVD, QMB: Qualitätsmanagementbeauftragter, NAT: Nukleinsäure-Amplifikationstechnik Source: PEI
Contact
Dr Heinrich Scheiblauer
Telefon: +49 (0) 6103 77 7018
Email: [email protected]
Services
Ser­vices
PEI-IVD works with Notified Bodies from all over Europe. It provides expert opinions for the conformity assessment of in vitro diagnostic medical devices laid down in Annex II of Directive 98/79 / EC (IVD Directive) and tests manufactured products (batches of IVD) pursuant to Annex IV 6. and Annex VII 5. of the IVD Directive:
Laboratory assays for testing manufactured products in accordance with Annex IV 6. and Annex VII 5. of the IVD guideline subcontracted to Notified Bodies including the evaluation of the quality control documents of the manufacturers ("= Batch test")
Expert assessment to evaluate the performance of products listed in Annex II, List A and B, in accordance with Annex IV and Annex V of the IVD Directive.
testing of Annex II products for compliance with the requirements of the Directive and the Common Technical Specifications (GTS)
Performance evaluation studies of screening tests
Evaluation and testing of diagnostics on behalf of competent authorities for the investigation of test failures and dysfunctions.
Price List
For the concrete services there is a price list, which is made available to the cooperation partners on request. All services are handled neutrally and equally.
Domestic Equipments
Do­mes­tic Equip­ments
Staff, Rooms, Equipment, Reference Material
In order to fulfill the tasks of examining IVD, PEI-IVD currently employs 8 scientists and 16 technical staff. It has laboratories where all necessary equipment and analysers are kept for testing
serological kits
blood typing kits and
nucleic acid amplification techniques (NAT).
For testing, PEI-IVD has its own reference materials and international standards for the following markers:
HIV 1/2
HBV
HCV
rubella
HCMV.
PEI-IVD also has a variety of commercially available sample panels and its own characterised samples that are used to verify manufactured products and performance evaluation.
Facts and Figures
Facts and Fig­ures
So far, about 800 different in vitro diagnostic products have been evaluated. PEI-IVD was able to receive the orders for testing for many of the products included in Annex II List A of the IVD Directive.
The testing capacity is approximately 2000 product batches per year. If all reagents are delivered on time by the manufacturer and there are no delays due to equipment issues, PEI-IVD can guarantee a maximum test period of two weeks (10 business days) - with the actual average test duration being 3-5 working days.
Quality Control
Recognition as testing laboratory pursuant to IVD guideline 98/79 / EG and DIN EN ISO / IEC 17025 by ZLG
Participation in INSTAND collaborating trials: viral immunology, NAT, parasite diagnostics I, bacteriological infection serology (chlamydia), immunohaematology II
Participation in WHO and ICBS programmes to develop HIV, HBV, HCV and other international standard materials.
Efficiency
PEI-IVD works on a private law basis. The nature and extent of the cooperation, the use of services and the remuneration to be paid are governed by contracts. The prices are calculated in such a way that PEI-IVD can cover costs using the criteria of economics. It does not operate in a profit-oriented manner and is treated as a "commercial enterprise" for tax purposes.
Cooperations, Committees and Studies
Co­op­er­a­tions, Com­mit­tees and Stud­ies
PEI-IVD is involved in the following collaborations and studies:
Collaborating Center for the International Blood Consortium Consortium (ICBS)
PEI-WHO Collaborating Center
Evaluation of seroconversion sensitivity of screening tests
Reference laboratory for INSTAND
National and International Committee Work
Diagnostics Committee of the German Association for the Control of Viral Diseases and the Society for Virology (DVV / GfV)
NAKI (National Task Force on the Implementation of the New EU Medical Device Regulations (MDR) and In Vitro Diagnostic Medical Devices (IVDR))
Cooperation Partners
Notified bodies

Identification number

British Standards Institution (BSI);
Hertfordshire HP2 4SQ UK
CE 0086
BSI Group The Netherlands B.V.
John M. Keynesplein 9, 1066 EP Amsterdam
CE 2797
DEKRA Certification B.V.,
6812 R Arnhem, The Netherlands
CE 0344
mdc medical device certification GmbH, 70191 Stuttgart
CE 0483
SGS United Kingdom Limited
202B Worle Parkway Weston Super Mare BS22 6WA, UK
CE 0120
TÜV Rheinland LGA Products GmbH, 51105 Köln
CE 0197
TÜV SÜD Product Service GmbH, 80339 München
CE 0123
UL International (UK) Ltd., Guildford Surrey GU3 1LR, UK
CE 0843
Scope
Scope
List A
Reagents for detection of
HIV 1/2
HTLV I / II
Hepatitis B, C, D
Blood groups: ABNull system, Rhesus (C, c, D, E, e), Anti-Kell
List B
Reagents for detection of
rubella, toxoplasmosis, cytomegalovirus, chlamydia
Duffy system, Kidd system
irregular anti-erythrocytic antibodies