Re­search at the Di­vi­sion of Mi­cro­bi­ol­o­gy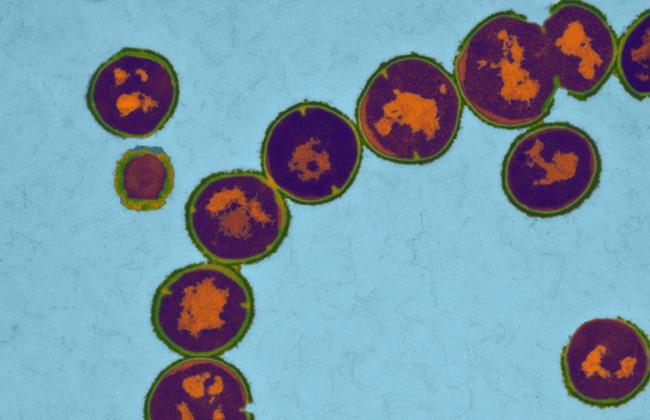 Research Team
Professor Dr Isabelle Bekeredjian-Ding (Head of Division of Micobiology)
Dr Karen Huber
Dr Olga Tichá
Dr Julia Uebele
Daniela Nascimento
Alexander Pastura
Isabel Rehbach
Nátalia Tassi
Johannes Weber
Sarah Hallstein
Felix Herrmann
Lukas Moos
Christoph Stein
Dr Birgit Blissenbach
Alina Hanlon
Alexander Negwer
Manuela Schreiner
Dr Oleg Krut (Head of Section Microbiological Safety)
PD Dr Benjamin Hofner (Head of Section Biostatistics)
Dr Volker Öpppling (Head of Section Microbiological Vaccines)
Research Summary
Research in the Division of Microbiology covers a broad range of topics that are all related to biomedicines ranging from understanding the host-pathogen response to development, regulation and treatment with biomedicines. Based on our regulatory portfolio we engage in research in microbiology, vaccines, biostatistics and modelling.
On request, separate information is available for the following Sections of the Division of Microbiology:
Method development in vaccine batch release and 3R projects
Microbiological Safety aspects of Biomedicines
Biostatistics and Modelling
Professor Bekeredjian-Ding heads a research group that has longstanding expertise in the interaction of the human host and the infecting pathogen. Our focus is the interplay of the host immune system and the microbial pathogen with a focus on immune pathogenesis and resolution of infection. We are interested in understanding the contribution of the immune response and its components to infection, autoimmunity and therapy with anti-infectives and biomedicines.
Host-microbe interaction with the innate immune system is orchestrated by pattern recognition receptors and by specific and unspecific activation of T and B lymphocytes. A better understanding of these immune mechanisms paves the way to innovative therapies that prevent excess immune stimulation or support resolution of infection and associated inflammation. We, therefore, have an interest in suppressory effector mechanisms including activation of T regulatory cells, IL-10 secreting B cells and suppressory myeloid cells.
We have used Staphylococcus aureus as a model pathogen for many years. It is a versatile pathogen with high genetic variability and a master immune regulator. The severity of disease and the variety of disease manifestation forms reflects that multitude of mechanisms and virulence factors involved in deceiving and misleading the host response.
Notably, S. aureus is a commensal that colonises the skin and the mucosa and causes infection at unpredictable time points when changes in the immune status or the microbiota allow it. This is also true for many other pathogens that share the fact that they colonize the human mucosal surfaces and readily acquire resistance to antibiotics. We, therefore, joined several collaboration projects that have the scope to better investigate the role of the immune response in infection with Gram negative multi-drug resistant pathogens. Two aspects are of particular interest:
vaccine development against nosocomial bacterial pathogens is linked to repeated failure and we aim to understand the causes;
No anti-infective therapy works efficiently without help from the immune system.
We want to study this interaction more closely to exploit the findings for development of new therapeutic concepts.

The IMI AMR Accelerator - COMBINE
TIPAT - Training towards Innovative Personalized Antibiotic Therapy

Head of Research
Professor Dr Isabelle Bekeredjian-Ding
Publications
Email: Isabelle.Bekeredjian-Ding@pei.de