Re­search Group Molec­u­lar Biotech­nol­o­gy and Gene Ther­a­py
Research at the President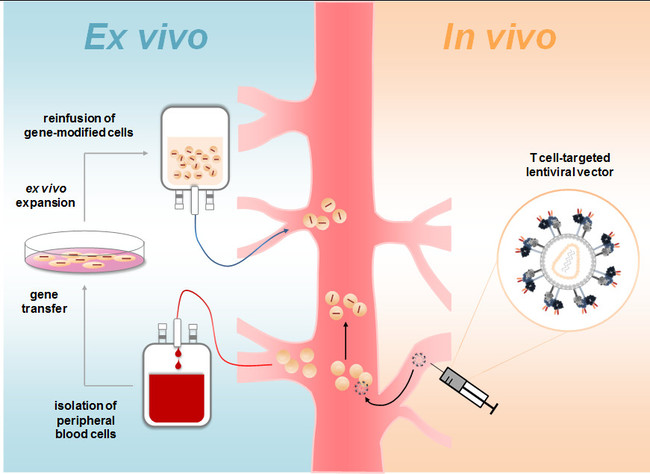 Schematic representation of the generation of CAR T cells. On the left, the ex vivo CAR T cells generation is shown, on the right, the vector particle, which selectively introduces the genetic information for the CAR into T cells. Source: EMBO Mol Med
Research Team
Professor Dr Klaus Cichutek (President)
Professor Dr Christian Buchholz (Head of research group)
Dr Shiwani Agarwal (Immunologist)
Dr Jessica Hartmann (Biochemist)
Dr Frederic Thalheimer (Biochemist)
Elham Adabi (Biotechnologist, PhD student)
Angela Braun (Biomolecular Engineer, PhD student)
Filippos Charitidis (Immunologist, PhD student)
Annika Frank (Biochemist, PhD student)
Dorothee Günther (Biotechnologist, PhD student)
Naphang Ho (Technical Biologist, PhD Student)
Laura Kapitza (Biochemist, PhD student)
Alexander Michels (Biochemist, PhD student)
Vanessa Riechert (Biologist, PhD student)
Samuel Theuerkauf (Biochemist, PhD student)
Tatjana Weidner (Technical Biologist, Research assistant)
Gundula Braun (Technician)
Julia Brynza (Technician)
Manuela Gallet (Technician)  
Research Summary
Surface engineering of viral gene transfer vector particles
Viruses have evolved as optimally adapted particles to enter cells and transfer their genetic material. We are engineering the surface of enveloped virus particles to improve their applicability in modern molecular medicine.

Receptor-targeted precision gene vectors: The receptor binding target structures - scFv and DARPins are displayed on lentiviral vector and AVV vector respectively. These structures guide the gene vectors to the therapy relevant cells. Source: PEI
In particular, we are following the hypothesis that viral gene transfer vector particles engineered to use a cell surface receptor of choice instead of their natural receptor will improve in vivo gene transfer and will pave the road to novel therapeutic options. As delivery and display vehicle we are currently focusing on lentiviral vectors (LVs), adenovirus-associated virus vectors (AAV) and in the past also involved oncolytic viruses like measles virus (MV) and vesicular stomatitis virus (VSV), each offering distinct beneficial properties. The projects include basic work on the technology and applications of the generated vector systems for gene function studies as well as for therapeutic options.
Head of Research Group
Professor Dr Christian Buchholz
Publications
Email: Christian.Buchholz@pei.de