Re­search at the Di­vi­sion of Vet­eri­nary Medicine
Re­search at the Di­vi­sion of Vet­eri­nary Medicine
Improving Animal & Human Health through Better Disease Modeling in Animals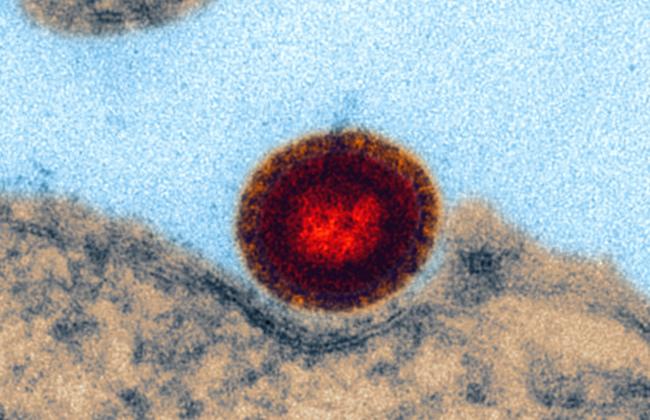 The Division of Veterinary Medicine is responsible for the authorisation and experimental product testing of veterinary vaccines, sera, and novel immuno-therapeutics. Our research complements this task by investigating different aspects of product safety, efficacy, and consistency. The development of well-characterised and validated in vitro and animal models is an integral part of these efforts. It is not only essential for an accurate preclinical assessment of new products and experimental concepts, but also actively contributes to replacing, reducing and refining (3R) the use of animals in experimental product testing.
Many pathogens of infectious diseases are zoonotic. This means, they occur both in humans and animals, they can be transmitted from one species to another and sometimes trigger very similar diseases. Animal models help investigate pathogens by providing unique insights into the pathogen-host interaction. One focus is the characterisation of RNA virus biology and pathogenesis mechanisms as a basis for the development of genetically modified attenuated vaccines as well as safe viral vectors for vaccine and gene therapy applications. Towards this we combine genetic modification of the respective pathogen with a detailed analysis of the resulting effects on the viral life cycle, changes in pathogenesis, and immune responses. Thereby, we compare immune response profiles associated with different vaccine classes to identify correlates of protection and indicators for vaccines efficacy and adverse reactions.
Towards this end, we also perform screening approaches to identify host factors which enables RNA viruses to infect and complete their lifecycle in permissive cells, as well as restriction factors which can suppress replication of RNA viruses. Furthermore, we use RNA-seq to quantify and compare virus-induced changes in cellular gene regulation.
The other focus of our research is the induction or modulation of cellular responses to control infection or immune-mediated disease and to improve tissue regeneration. Therefor we use gene transfer to hematopoietic stem cells and their transplantation to modify the hematopoietic system. We are especially interested in utilising modified megakaryocytes and platelets, and exploring their immunomodulatory potential in the context of vaccination and disease. Modified blood cells are also in vitro differentiated from pluripotent stem cells and transfused into relevant animal models.
All research programs offer training opportunities for Bachelor's, Master's and PhD students from different life sciences, medicine, and veterinary medicine programs as well as interested international exchange students.
Email: veterinaermedizin@pei.de
Gene Modification in Stem Cells
Gene Mod­i­fi­ca­tion in Stem Cells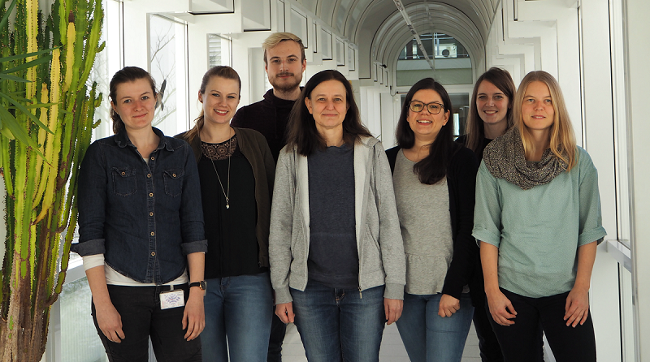 Research Team
Prof Dr Dr Ute Modlich (Head of Research Group)
Julia Baumgärtner (PhD student)
Tanja Hirch (PhD student)
Marcel Rommel (PhD student)
Franziska Schenk (technical assistant)
Christian Milde (doctorate student)
Research Summary
Genetic modifications allow the generation of "designer" cells for cell and gene therapy. As stem cells are long-lived, possess self-renewal potential and the ability to form other cell types they are of particular interest for gene therapy. Our group is mainly interested in the modification of the blood systems via gene transfer to hematopoietic stem cells, but also the differentiation of blood cells from ES/iPS cells.
Improving the efficiency of genetic interventions goes hand in hand with exploring the nature and incidence of unwanted side effects. In hematopoietic gene therapy, side effects may originate from genetic damage following the insertion of the transgene, from interference of ectopic transgene expression with cellular signaling networks, and from cell culture dependent toxicity. Especially the treatment of stem cells harbors considerable risks as they have many pathways activated that also support the growth of cancer stem cells. The better understanding of the impact of genetic modifications on stem cells will help to preserve their phenotype and to improve gene therapeutic interventions
Head of Research Group
Prof Dr Dr Ute Modlich
Publications
Email: Ute.Modlich@pei.de
3R Approaches in Product Testing
3R Ap­proach­es in Prod­uct Test­ing
Research Summary
The main objective of our research is focused on the development of non-animal test methods as an alternative to extensive animal testing in potency and safety testing of immunological veterinary medicinal products. Further goals are to refine animal tests to avoid suffering of the animals and to reduce the number of animals required. This is in line with the principles of 3R (Refine, Reduce, Replace).
A number of activities are targeted on the enhancement of strategies and methods for the testing of vaccines and biomedicines. The purpose is to sustain the standardization of tests carried out in a number of different laboratories and to advance the implementation of alternative methods.
Project Management
Dr. Beate Krämer
Dr. Birgit Kegel
Dr. Elisabeth Balks
Dr. Heike Behrensdorf-Nicol
Pathogenesis of Respiratory Viruses
Patho­gen­e­sis of Res­pi­ra­to­ry Virus­es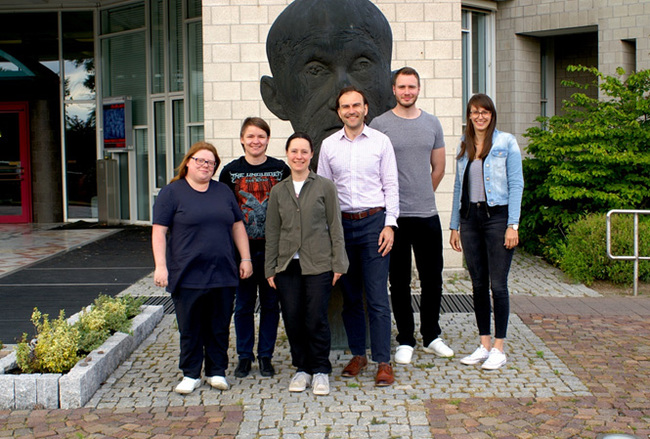 Research Team
Dr Christian Pfaller (Head of Research Group)
Dr Maike Herrmann (Postdoc)
Yvonne Krebs (Technician)
Dr Svetlana Rezinciuc (Postdoc)
Dr Bevan Sawatsky (Staff scientist, ABSL3 manager)
Oliver Siering (PhD student)
Karina Sommer (Technician)
Kevin Wittwer (PhD student)
Research Summary
Respiratory viruses contribute importantly to the global health burden, and their rapid transmissibility makes them a major public health concern. The Pfaller laboratory focuses on characterizing the pathogenesis of these viruses to develop novel prophylactic and therapeutic strategies (Fig. 1).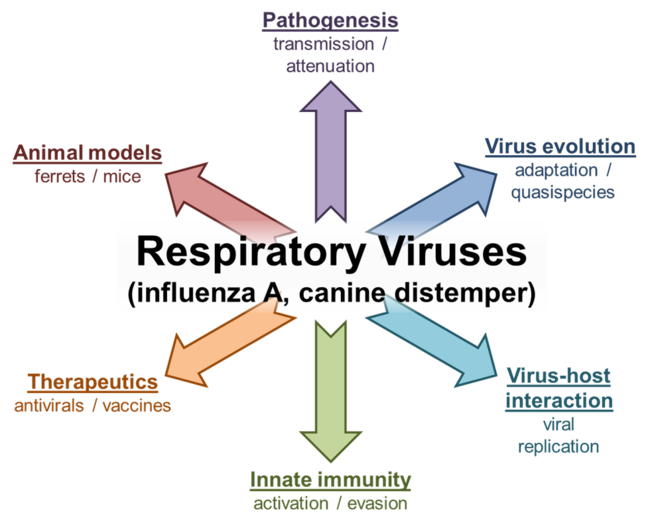 Task Overview in the Research on Respiratory Viruses Source: PEI
Projects involve the study of recombinant genetically modified virus in vitro and in different animal models.
Morbillivirus Pathogenesis Mechanisms
Measles virus (MeV) annually infects up to 60 million people, resulting in over 100,000 deaths despite the availability of a highly efficient and safe vaccine. Because of high MeV prevalence in countries with low vaccine coverage and limited medical support, and increasing vaccination fatigue in industrialized nations, measles outbreaks are expected to continue worldwide.
Our laboratory aims to characterize the viral and host determinants of Morbillivirus virulence. Toward this, we have developed a ferret animal model to study the closely related morbillivirus, canine distemper virus (CDV). Ferrets are very susceptible to CDV infections. We have shown that the clinical course and signs of CDV infection in ferrets closely resemble those of MeV infections in humans, including the development of severe immunosuppression, rash, respiratory and gastrointestinal signs, and neurologic complications. Using this model, we are currently addressing the following questions:
How is the virus recognized by the immune system and how does it circumvent cellular antiviral responses?
What selective pressures contribute to the evolution of the virus?
Which interactions of morbilliviruses with the immune system contribute tot he long-lasting immunosuppression?
What are determinants of morbillivirus transmission?
How do morbilliviruses establish persistence in the central nervous system?
Influenza Virus-Host Interactions
In non-pandemic years, influenza causes illness in up to 20% of the general population and is responsible for up to 500.000 deaths worldwide. These numbers are expected to increase dramatically in the case of a pandemic, which could infect up to 80% of the general population and cause 2-7 million deaths globally. In the European Union, direct health care costs and indirect costs due to work days lost is estimated to be at € 6-14 billion annually, and projections for the US are in a same range.
Our laboratory investigates the virus-host interactions during seasonal and highly pathogenic influenza infections. Towards this, we are characterizing the host response on a cellular level and in ferrets. In addition, we are examining the role of pre-existing immunity and symptom-based therapeutic interventions on disease severity and outcome. At this time, we are interested in answering the following questions:
How does the early host response differ in mild and severe influenza infections?
Can we reduce disease severity by targeting cellular proteins involved in the influenza life cycle?
Which viral proteins are involved in the heterosubtypic protection observed after natural infection?
Innate Immune Responses to RNA Viruses
After viruses have entered cells they are facing an alert system that tries to detect them and can activate potent antiviral programs. This system is called the innate immune response. Most if not all viruses have evolved to hide from it or express gene products blocking parts of it. Some viruses have even learned to take advantage of intrinsic control mechanisms. We are interested in one of these mechanisms provided by the cellular enzyme ADAR1. Its primary function is to protect cells from an accidental autoimmune activation, but we have learned from our studies with measles virus that this function will also help the virus hiding from innate immune recognition (Fig. 2).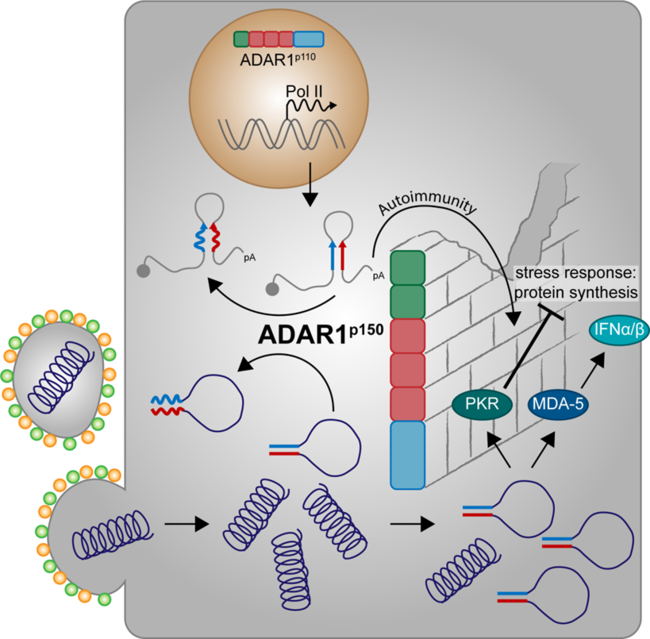 ADAR1 - Immunological Processes Source: PEI
We are now asking additional questions:
Which additional viruses can benefit from the regulatory function of ADAR1?
Can this function be blocked to provide a more potent innate immune response to viral infections?
Head of Research Group
Dr Christian Pfaller
Publications
Email: Christian.Pfaller@pei.de
Research projects for Bachelor and Master students are available. Interested students should contact Dr Pfaller by email.
Virus Tropism and Immunogenicity
Virus Tropism and Im­muno­genic­i­ty
Research Team
Dr Richard J. P. Brown (Head of Research Group)
Dr Bingqian Qu (Post-Doctoral Researcher)
Robin Kleinert (PhD student)

Research Summary
Viruses are obligate intracellular parasites, hijacking and reprogramming host cells to enable the propagation and dissemination of their progeny: the viral life cycle therefore represents a complex and multistage interplay of virally encoded proteins interacting with host proteins. Host dependency factors facilitate viral spread and are essential at every step of the virus lifecycle including attachment, entry, uncoating, genome translation, replication, assembly and release. In parallel, the cellular antiviral response to infection, which can actively suppress viral propagation by multiple diverse mechanisms, is mediated by host restriction factors. Viral species and tissue tropism therefore is governed by a finely tuned balance between host dependency and restriction factors.
Our research at PEI focuses on the family Flaviviridae, a diverse group of positive-stranded RNA viruses which includes the genera Flavivirus and Hepacivirus. The zoonotic flaviviruses, including yellow fever virus (YFV) and West Nile virus (WNV), are arboviruses which are transmitted to humans via mosquitos and can cause a range of acute clinical symptoms ranging from asymptomatic infections to fatal haemorrhagic disease or encephalitis. Contrastingly, Hepatitis C virus (HCV) is classified as a Hepacivirus and has no known animal reservoir. HCV is transmitted between humans by blood-to-blood contact and chronically infects 71 million people worldwide, resulting in 400,000 deaths a year. Despite similarities in genome organization and replication strategies between the flaviviruses and the hepaciviruses, species and tissue-tropism differs greatly between these two groups. HCV displays a highly restricted tropism, naturally infecting only human hepatocytes. In contrast, flaviviruses are zoonotic pathogens exhibiting broad host ranges, replicating in arthropod vectors and an array of tissues from diverse species. The host determinants which underlie these differences are currently poorly defined.
In the Virus Tropism and Immunogenicity research group at the PEI we identify host determinants underlying viral species and tissue tropism using diverse approaches, including genome wide screening. Furthermore, we investigate host transcriptomic responses to viral infections via RNA-seq, to dissect and compare global cellular antiviral programs in different tissues/species. In response to the lack of available vaccines against some flaviviruses which cause severe disease in humans, we assess immunogenicity of potential vaccine candidates in vitro and in vivo. Finally, in response to the current pandemic, we also investigate species-specific conservation of cellular entry mechanisms for SARS-CoV-2, in addition to the immune responses elicited by SARS-CoV-2 infection versus vaccination. Overall, our research aims to improve understanding of the viral life-cycle and pathogenesis mechanisms, facilitating animal model development and highlighting potential therapeutic targets, in addition to the identification of novel vaccine candidates.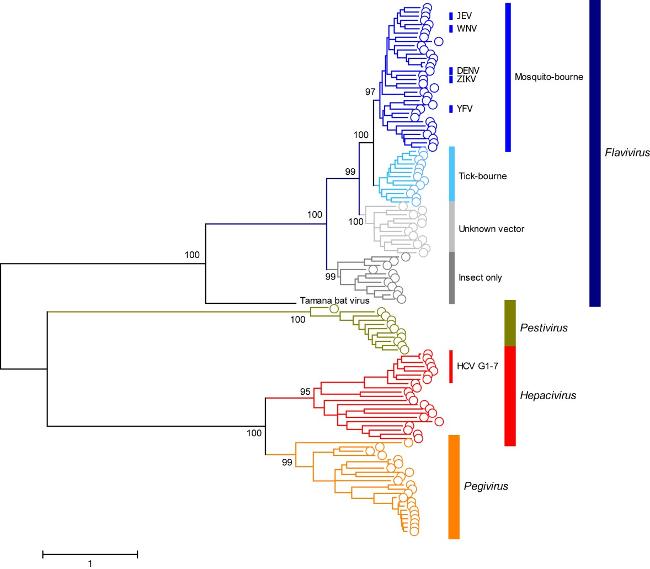 Phylogenetic relationships within the Flaviviridae Source: Kleinert el al. Viruses 2019
Head of Research Group
Dr Richard J. P. Brown
Publications
Biography
Email: Richard.Brown@pei.de
Oncolytic Measles Viruses and Vaccine Vectors
On­colyt­ic Measles Virus­es and Vac­cine Vec­tors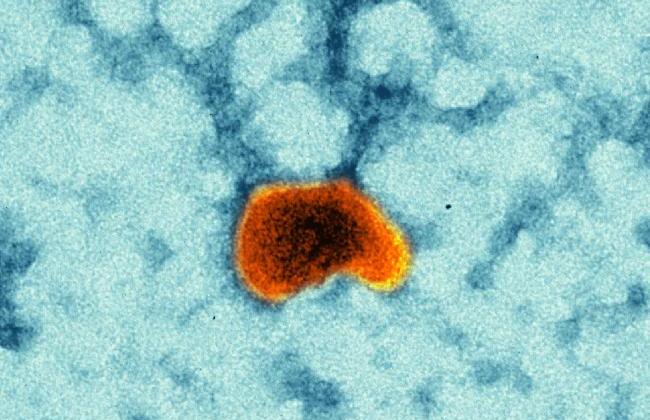 Research Team
Dr Michael Muehlebach (Head of Research Group)
Dr. Aileen Ebenig (PostDoc)
Dr Cindy Nürnberger (PostDoc)
Dr. Christoph Schuermann (PostDoc)
Dr. Vishakha Tiwarekar (PostDoc)
Arne Auste (PhD Student)
Carina Kruip (Technical Assistant)
Daniela Müller (Technical Assistant)
Research Summary
Measles Virus (MeV) is a negative-strand RNA virus that is one of the most contagious viruses known. Live attenuated vaccines against measles virus (MeV) are among the most efficient and safe vaccines available and probably evoke life-long immunity. These can easily be modified to carry additional transcription units that allow regulated expression of additional genes encoding foreign antigens in order to evoke cross-protection against foreign pathogens. We aim to understand the mechanisms and degree of protection evoked by recombinant MeVs expressing foreign antigens in animal models. Of special interest are vaccine candidates targeting highly pathogenic emerging infections generated on the basis of this vaccine platform technology. MeV readily infects and kills human tumor cells and can be manipulated by reverse genetics. Direct killing of tumor cells assisted by immune reactions or delivery of anti-tumoral cargo by the oncolytic virus during replication is tested with the aim of developing improved oncolytic MeVs. Basic MeV biology is studied to understand mechanisms influencing the performance of recombinant MeVs.
Head of Research Group
Dr Michael Mühlebach
Publications
Email: Michael.Muehlebach@pei.de