Research at the Division of Virology
Re­search at the Di­vi­sion of Vi­rol­o­gy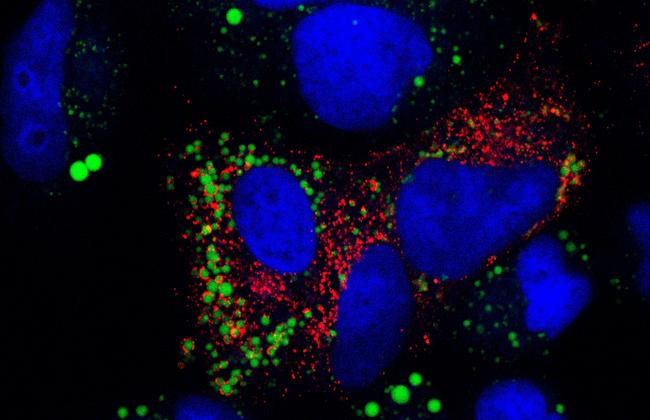 Research Team
Prof Dr Eberhard Hildt (Head of Division of Virology)
Ines Amberg (Technical Assistant)
Sandra Baierl (Technical Assistant)
Michael Basic (Master Student)
Heike Baumann (Technical Assistant)
Dr Sally Ann Baylis (Assessor)
Michael Basic (Master Student)
Heike Baumann (Technical Assistant)
Dr Sally Baylis (Scientist)
Dr Daniela Bender (née Ploen) (Scientist)
PD Dr Dr Johannes Blümel (Head of Viral Safety Section)
Gert Carra (Technical Assistant)
Dr Michael Chudy (Head of Molecular Virology Section)
Patrycja Dudek (Master Student)
Dr Fabian Elgner (Scientist)
Jasminka Geise (Assistant of the Head of Division of Virology)
Julia Gerbeth (Technical Assistant)
Mirco Glitscher (PhD Student)
Dr Constanze Göpfert (Scientist)
Dr Elena Grabski (Assessor)
Vanessa Haberger (PhD Student)
Dr Steffen Haffner (Assessor)
Sigrid Hanitsch (Technical Assistant)
Christine Hanker-Dusel (Technical Assistant)
Andrea Henkes (Technical Assistant)
Lisa Henß (Technical Assistant)
Marie-Luise Herrlein (PhD Student)
Dr Kiyoshi Himmelsbach (Scientist)
Christa Horn (Technical Assistant)
Frauke Hüls (Assistant of the Head of Division of Virology)
Younes Husria (PhD Student)
Christina Jeschek (Technical Assistant)
Dr Bingfu Jiang (Scientist)
Janine Kandler (Technical Assistant)
Roswitha Kleiber (Technical Assistant)
Claudia König (Technical Assistant)
Martina Koser (Technical Assistant)
Magdalene Köstermenke (Technical Assistant)
Erika Krebil (Technical Assistant)
Dr Julia Kreß (Scientist)
Dr Evelyne Kretzschmar (Assessor)
Jutta Kreutz (Technical Assistant)
Dr Alica Kubesch (Guest Scientist)
Christine Pfannkuch (Technical Assistant)
Dr Jeannette Reißinger (Scientist)
Dr Annette Lommel (Assessor)
Sara Mohamed (PhD Student)
Dr Heide Muckenfuß (Assessor)
Robin Oliver Murra (Technical Assistant)
Britta Neumann (Technical Assistant)
Dr Kai-Hendrik Peiffer (Guest Scientist)
Christine Pfannkuch (Technical Assistant)
Dr. Annette Reißinger (Scientist) 
Fabian Roesmann (Master Student)
Dr. Andrea Röhmer (Assessor)
Dr Hanna Roth (Scientist)
Catarina Sabino (PhD Student)
Eva-Maria Schirk (Technical Assistant)
Benjamin Schmidt (Master Student)
Christin Schmidt (PhD Student)
Prof. Dr Barbara Schnierle (Head of AIDS, New and Emerging Pathogens Section)
Dr Tatjana Scholz (Scientist)
Dr Astrid Schwantes (Assessor)
Dr Hanna Sediri-Schön (Scientist)
Catrina Spengler (PhD Student)
Lea Strauß (Technical Assistant)
Dr. Albert Stühler (Assessor)
Anett Stühler (Technical Assistant)
Dr Yuansheng Sun (Assessor)
Hans Jürgen Tapp (Technical Assistant)
Katja Vogel (Technical Assistant)
Christine von Rhein (Technical Assistant)
Dr Ralf Wagner (Head of Viral Vaccines Section)
Heidi Welter (Technical Assistant)
Xingijan Wen (PhD Student)
Qingyan Wu (PhD Student)
Research Summary
The division is performing basic and applied research in the areas of virology and vaccinology. Our research is focussed on the molecular virology of HIV, HBV, HCV and influenza viruses. A central objective of our research is the characterization of virus host interactions regarding viral replication and virus-associated pathogenesis. Hereby we focus on the characterization of functional and structural prerequisites for viral replication and the identification of pathogenic mechanisms triggered by viral proteins. The detailed in vitro and in vivo characterization of virus-host interactions will serve to specifically investigate the function of viral and cellular proteins that have regulatory, immunomodulatory and/or pathogenic potential. Better comprehension of molecular pathogenesis in viral infection will lead to the rational improvement of diagnostic tools, prognostic markers and biological medicines.
Moreover, we work on the development of novel vaccines and biological products with improved safety and optimized efficacy. Here our priorities are to actively support vaccine development against AIDS, Hepatitis C virus, influenza and new emerging viral infections. With the use of up-to-date virus vector technologies and cell permeable virus like particles as epitope carrier, we have the opportunity to derive and evaluate new recombinant candidate vaccines with immediate relevance for (pre-)clinical research. In addition, the development of optimized nucleic acid amplification techniques is highly relevant for our research on the epidemiology of new and emerging viruses, virus safety testing, and for virus monitoring.
Head of Research
Prof Dr Eberhard Hildt
Publications
Email: Eberhard.Hildt@pei.de
Research Group for Molecular Virology of Hepatitis Viruses (HBV and HCV)
Re­search Group for Molec­u­lar Vi­rol­o­gy of Hep­ati­tis Virus­es (HBV and HCV)
Research Group in the Division of Virology
Source: PEI
Research Team
Professor Dr. Eberhard Hildt (Head of Division of Virology)
Michael Basic (Guest Scientist)
Dr. Daniela Bender (née Ploen) (Scientist)
Gert Carra (Technical Assistant)
Patrycja Dudek (Master Student)
Jasminka Geise (Assistant of the Head of Division of Virology)
Mirco Glitscher (PhD Student)
Vanessa Haberger (PhD Student)
Marie-Luise Herrlein (PhD Student)
Frauke Hüls (Assistant of the Head of Division of Virology)
Younes Husria (PhD Student)
Dr. Bingfu Jiang (Scientist)
Dr. Alica Kubesch (Guest Scientist)
Sara Mohamed (PhD Student)
Dr. Kai-Henrik Peiffer (Guest Scientist)
Fabian Roesmann (Master Student)
Catarina Sabino (PhD Student)
Benjamin Schmidt (Master Student)
Catrina Spengler (PhD Student)
Xingijan Wen (PhD Student)
Qingyan Wu (PhD Student)
Research Summary
Our studies deal with the characterization of hepatitis C/hepatitis B virus-host-interactions. A particular focus is on the characterization of intracellular signal transduction cascades with respect to their relevance for the viral life cycle and for virus-associated carcinogenesis. Moreover, we are aiming at identifying subcellular structures that are involved in the intracellular trafficking, morphogenesis, and disassembly of HCV and HBV particles during the viral infection cycle.
Based on this we aim to identify novel therapeutic targets to control viral infection and virus-associated carcinogenesis. In this context we are characterizing cell-permeable carrier peptides as novel instruments for the delivery of bioactive compounds that exert specific antiviral or anti-tumour effects.
Head of Research Group
Prof Dr. Eberhard Hildt
Publications
Email: Eberhard.Hildt@pei.de